22/03/2023
Posted by:

Janick Pettit

Categories:

Cameroon, Cote d'Ivoire, DR Congo, Egypt, Ivory Coast, Kenya, Morocco, Mozambique, Nigeria, Online Panels, SagaCube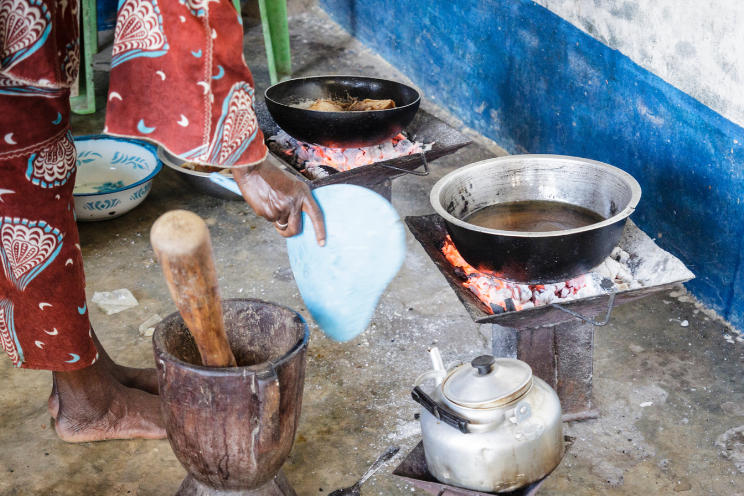 Comparing the use of energy sources such as charcoal vs. gas for cooking in Africa is possible by leveraging SagaCube, the consumption habit tracker in Africa. We asked panel members from the Lower Middle class (Social Economic Class D) from almost 30 countries what their main source of energy for cooking is. Below, the results are mapped, highlighting the level of over or under-representation of respondents using charcoal compared to those using gas to cook at home.
Comparing cooking fuels in Africa: Charcoal vs. Gas
In countries such as Mozambique, Uganda, Mali, Zambia and Congo DRC, charcoal usage is 'over-represented' compared to gas usage, meaning using charcoal is more common than gas in these countries. In contrast, charcoal is most 'under-represented' compared to gas in Morocco, Kenya, Egypt, Cameroon, Nigeria and Côte d'Ivoire, indicating that charcoal is less common than gas in these places.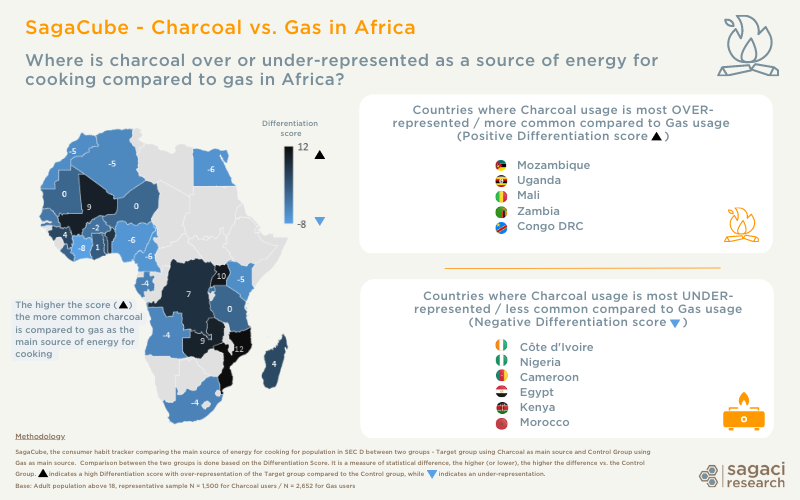 On this map, the higher the Differentiation score, the more likely the country is to use charcoal compared to gas as the main energy source for cooking. Conversely, the lower the score, the less likely charcoal is used compared to gas.
Sustainable cooking in Africa
Could these numbers reflect the efforts some countries are putting into place to move towards cleaner cooking solutions and minimize the environmental impact of cooking fuels in Africa?
This is certainly not an easy task with over 900 million people in Africa lacking access to clean cooking facilities, leading to indoor air pollution and respiratory diseases, as well as deforestation and carbon emissions. Cooking is a vital part of daily life in Africa, but traditional cooking methods such as open fires and charcoal stoves are inefficient, time-consuming, and harmful to health and the environment.
Several African countries are indeed promoting clean cooking solutions to address these challenges. In Nigeria, the government is promoting LPG (Liquefied Petroleum Gas) and biogas. However the uptake is slow due to high costs. Kenya has distributed free LPG cylinders to low-income households, increasing LPG's use to over 10%. Tanzania has distributed over 2 million improved cookstoves to reduce biomass use and improve air quality. In South Africa, most households use electricity or LPG for cooking, but low-income households still use biomass and coal stoves. The government is promoting access to clean cooking solutions for these households.
By investing in sustainable and innovative cooking energy solutions, African countries can improve the health, environment, and livelihoods of millions of people. At the same they will contribute to global efforts to mitigate climate change.
Online research panel in Africa
If you would like to know more about leveraging Sagaci Research online panel in Africa or generally how to do market research online, please send an email to contact@sagaciresearch.com or click below.
Methodology
SagaCube, the consumer habit tracker in Africa
Question: Which of the following would you consider as your main source of energy for cooking? Charcoal / Gas + other options
Approach: Comparison between the main source of energy for cooking for population in SEC D between two groups:
Target group using Charcoal as main source
Control Group using Gas as main source
Comparison between the two groups is done based on the Differentiation Score. This is a measure of statistical difference, the higher (or lower), the higher the difference vs. the Control Group. 
Base: Adult population above 18 from Social Economic Class D. Representative sample N = 1,500 for Charcoal users / N = 2,652 for Gas users
Period: March 2023